---
If not managed with care by an advertiser, one of the most effective (yet at times, creepiest) forms of online marketing are the ads that follow you wherever you go on the web. Those types of ads belong to a category of data-driven marketing called lots of things (that we can repeat):  Behavioral marketing, behavioral-targeting, retargeting and remarketing. Google, the dominant provider of this type of advertising, has a kinder-gentler name for them: "reminder ads." In the past, we've provided information on Google's Mute This Ad feature that provides users a way to turn off such tracking ads – yet in a limited way for specific types of ads. Late yesterday (1.25.2018), Google announced it is adding more features to Mute This Ad that "give you more control to mute the (reminder) ads you see on Google, on websites, and in apps," according to Jon Krafcik, Google group product manager of data privacy and transparency. "Once users tell Google they don't like an ad, Google will stop displaying it on all the devices that user is logged into," he said.
---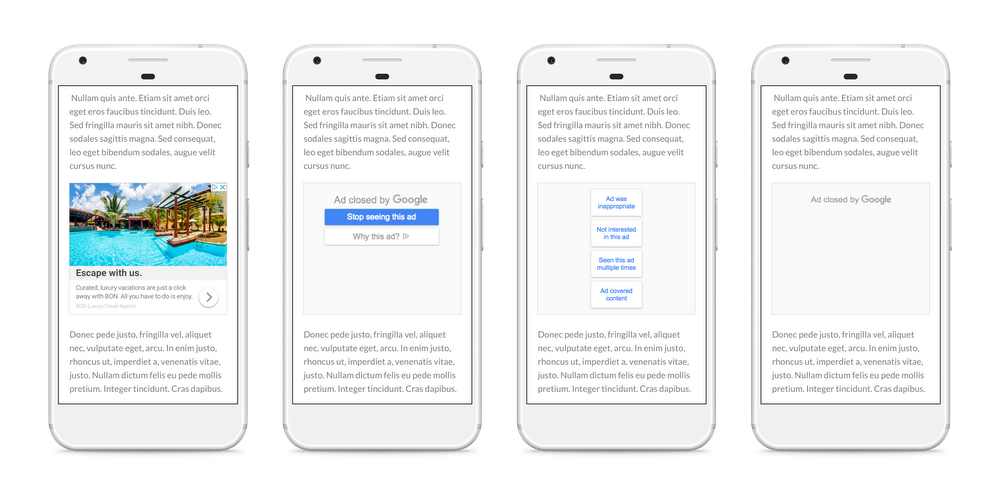 "Today, we're rolling out the ability to mute the reminder ads in apps and on websites that partner with us to show ads. We plan to expand this tool to control ads on YouTube, Search, and Gmail in the coming months."
Jon Krafcik
Google Group Product Manager of Data Privacy and Transparency
1 | Mute this Ad will now recognize feedback on any device where you are signed in to your Google Account, based on your account settings.
2 | Mute This Ad will roll out the new features to apps and websites that partner with Google to show ads.
3 | Mute This App will expand to YouTube, Search and Gmail in the coming months.
4 | Users will be able to view a list of the websites that are delivering remarketing ads to them, and thus tracking them, and opt-out from having ads from those websites delivered to them going forward.
5 | Be forewarned: Those who use the tool are muting the advertiser from retargeting them with Google ads, not just the one ad they're sick of seeing.
6 | It only impacts Google ads, not those from other remarketing services an advertiser might be using.